Okay, sending bulk sms might seem trivial to some, but to someone who is new to all this, lets help you get started pretty fast.
What is Bulk SMS?
As the name implies it means sending text messages to many at the same time. SMSGator supports sending bulk sms to millions of phone numbers all at once.
Why do I need a Bulk SMS service provider?
Well, you might find yourself in a situation where you need to send out seasonal text messages to your friends and loved ones or send out an advertising message for your business, a political text message to your constituents or a devotional text message to your church members.
Of course you can send individually using your phone, then you say to yourself there must be a better way. This is where a  Bulk SMS software comes in.
Now that you know the what and why, lets get to the how.
To get started, you need
Your phone numbers typed out with each number on a separate line or separated by comma.
Your text message
A reliable bulk sms provider
We are going to be demonstrating this process on our website, should be similar for other bulk sms service providers. So lets get started.
Sign up for a free sms account on
After signing up, an email will be sent to you for verification. Please make sure to use a valid and accessible email on registration

3. Click on the link sent to your email to activate your account.(If you can't click on the link, simply copy and paste it into your browser window)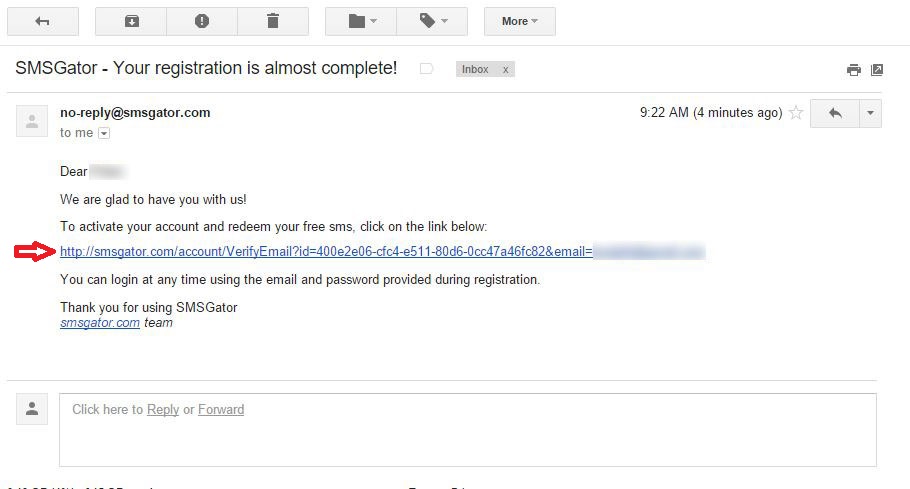 4. After verification, click on 'log in'.

5. Enter your email address and password provided during registration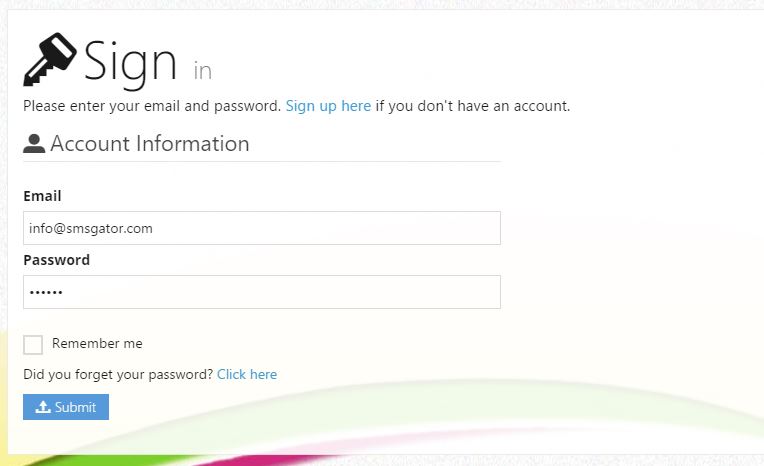 6. Upon successful login, you will be redirected to the 'Compose SMS' screen. You are already given 2 free sms units for testing. (See How to buy more units)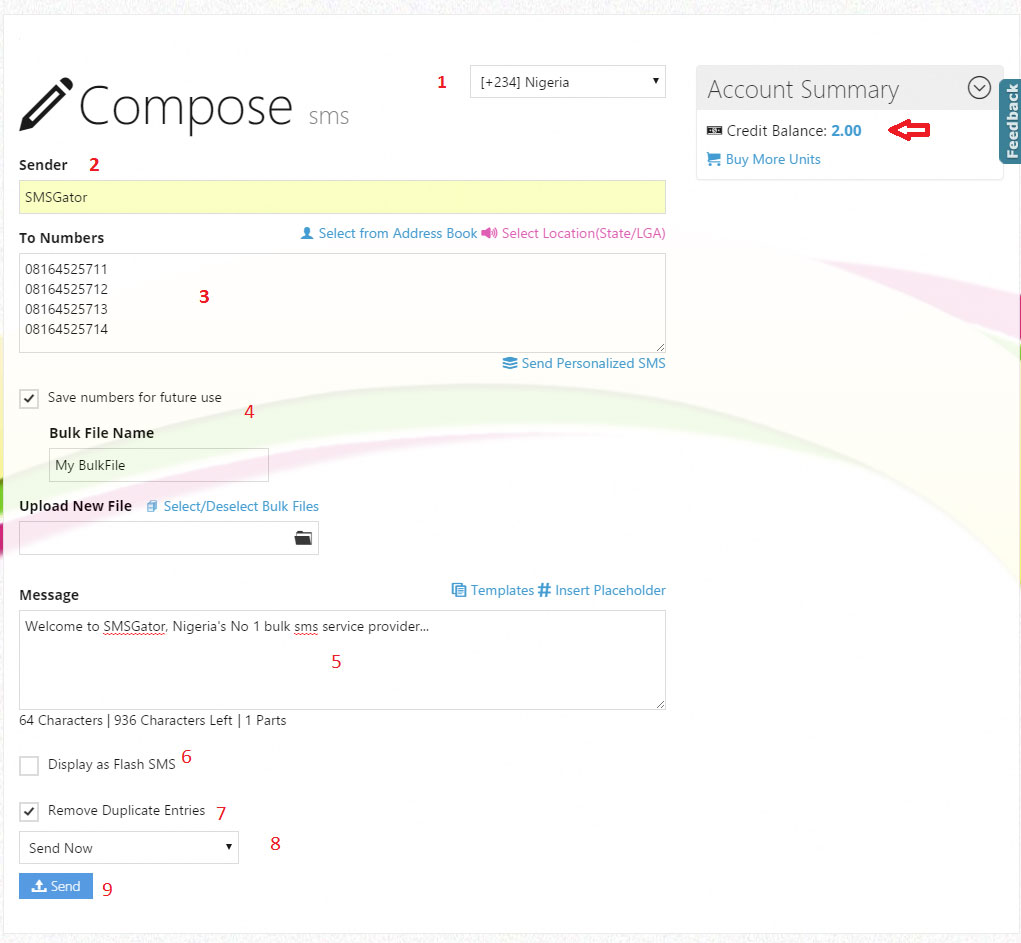 This should already be set to your current country. This is how SMSGator knows what country code to prefix to your number when you enter 08164525711 or 8164525711. For Nigeria it converts this number to 2348164525711.
Sender: This is the Sender Id that shows up on the recipients phone.
To Numbers: Enter your recipients phone numbers here. Each number should be on a separate line or separated by comma. (See how to Send Location based(Targeted) SMS and Customized SMS)
Check 'Save numbers for future use' and give it a name, if you wish to save your numbers for reuse later. To reuse these numbers simply click 'Select/Deselect Bulk Files' on subsequent sending.
Type out your message taking note of the number of characters and parts below. Messages less than 160 characters will be charged 1 unit. Above 160 and depending on the number of parts, charges apply accordingly. Example: 2 part messages are charged 2 units, 3 parts 3 units etc
Select 'Display as Flash' to display your sms directly on the recipients screen. Please note that these text messages are not saved to the recipients inbox.
Select 'Remove Duplicate Entries' to have duplicates automatically removed. That is if a number appears multiple times, SMSGator only sends to the first and discards the others.
Select an appropriate option, Send Now(Sends your messages instantly), Preview & Send(Allows you to preview your messages, see the total cost, send to only a particular network etc),  Draft(Just saves your message to the drafts folder), Schedule(To have SMSGator automatically send your message at a future time)
Then click the 'Send' Button.
And that's it…Congratulations!!! You've just sent your first sms.
NB: 'Congratulations' is regarded as a spam word by some network operators meaning an SMS containing spam words like Congratulations, MTN, Bank Names as Sender Id, Promo etc may not deliver. Also note that GLO will not deliver messages containing GSM numbers in them. For GLO you could try separating the numbers like so 0816 452 5711.